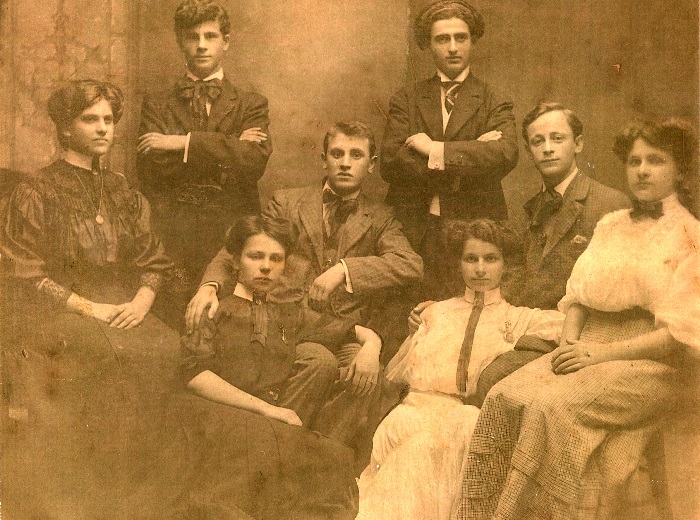 Harry Brodsky and His Siblings
Harry is the man seated toward the right. The rest are not yet identified.
Can you help? Contact me at brodwintree@gmail.com!
Hillel Brodsky married Sarah Goldberg in Ukraine in the late 1800s. They had many children in Kremenchuk, Ukraine, probably the people pictured above (though one of the women above may be Sarah!). At least seven of their children emigrated to Philadelphia in the early 1900s. Three of their descendants married people named Winokur, and two of those Winokurs were brothers (sons of Leib) though it is not yet clear whether those Winokurs were related to the third (the wife of Harry). The name Winokur was quite common among Jews in Ukraine.
This site is a collection of genealogical information related to Hillel Brodsky's descendants, and to the Winokur families that married Hillel's descendants. It is very much a work in progress: I have found very little information about some branches, and I am hoping to find cousins out there who can fill in the gaps!
Out of respect for the privacy (and identity security!) of their descendants, I have provided little or no detail about living descendants. The Alphabetical List provides names and dates of birth for living persons, but it does not show how they are connected to the tree. The Brodsky and Winokur trees show the connections but do not give names or dates for living persons.
UPDATE 29 MARCH 2020:
It's been more than two years since I first created this site. I did a little bit of an update to Abraham's page in November 2018, but I hadn't learned much else until quite recently. Then within the last few months, developments exploded:
The Brodsky matriarch came to America with two daughters! But she probaby was not named Winokur
A Ukrainian marriage record for Morris Brodsky!
The marriage of two Brodsky siblings by a rabbi who forgot to submit returns of their marriages ... along with 600 others!
The remarriage of Samuel Brod ... with multiple children!
The identity of Fannie Brodsky's husband ... and their three children!
A newfound daughter of Morris Winokur ... along with her four children and many grandchildren!
Proof that the two Winokur men who married Brodsky women are definitely brothers! Although I still don't know if they are connected to the Winokur woman who married a Brodsky brother
The recent passing of two Lederhandler brothers, opening up information about them
... and many, many other bits and pieces! Every page on this site has been updated to one degree or another. Hang on for a great ride!